Our Ethos, Your Satisfaction
We have been crafting gorgeous jewelry for over a decade with the world's most brilliant gems and sell only the finest quality Moissanite gems available that you will be proud to wear. We commit to our environment by using recycled precious metals and lab-grown gems that have traceable origins to ensure you feel confident in your sustainable lifestyle.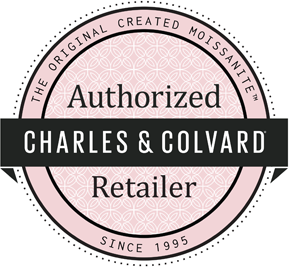 A perfect memory takes a bit of time
Let's say you order by 1PM CST today...
Each order is handcrafted by our jewelers and on average will take 9-15 business days to build, inspect, and prepare for shipping. As with any made-to-order product, each ring is different, so some products may take a little longer than others.
Day 1
On the first day, we are preparing your order. This includes checking for fraud, ensuring availability, arranging a craftsman, and/or contacting you with any information that might be important about your selected options.
Day 2 - 1
A jeweler has been assigned to build your custom jewelry. When complete, we will inspect it for quality and notify you if we find any issues that might cause delays.
1 + Shipping time
It's shipping day! We will pack your item with care and best wishes. Your tracking number will be activated and you can expect your item to arrive based on the shipping method you selected.
Give yourself plenty of leadway for that special day. While delays can occur, we strive to ship on or before the estimated processing time for every order and we will do our very best to keep you informed throughout the process.