Is MoissaniteCo an Authorized Charles & Colvard Retailer?
Yes! Moissanite has been a proud seller of Charles & Colvard Moissanites for over nearly 15 years. To verify, simply click on the trust seal below, and find us listed on Charles & Colvard's website: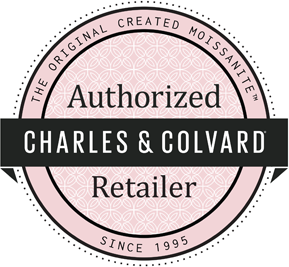 Are You Associated with Charles & Colvard?
Our company, MoissaniteCo.com, is an independent retailer and manufacturer of fine jewelry created with Charles & Colvard Moissanite. Charles & Colvard, the manufacturer of Moissanite, sells Moissanite to national distributors through which we purchase our Moissanite gemstones.
Is MoissaniteCo a Reputable Company?
Founded in 2005, MoissaniteCo is the longest selling Moissanite retailer. We are proud members of the Better Business Bureau, which has given our company an "A+" rating.
Over the years we have accumulated 1000's of reviews from positive customers that testify of both the quality of jewelry share and the top notch customer care we provide
How Long Has MoissaniteCo Been in Business?
We have been creating and selling Moissanite jewelry since 2005. The owners and founders of MoissaniteCo.com come from a long line of jewelry retailers in Las Vegas, NV, where three generations of jewelers have operated Las Vegas' oldest chain of jewelry stores: M.J. Christensen Diamond Centers.
One thing to consider when choosing the company to shop with is whether or not it will be around in the years to come to provide you with additional services such as jewelry repair, ring resizing, designing a matching band, etc. Below is a list of many, but not all of the Moissanite retailers, who have come and gone since we have been selling Moissanite gems and jewelry.
BellaJewelryCo.com
FromTheSky.com
Moissanite-Collection.com
Moissanite-Stardust.com
LeeBellDesigns.com
DesertMoissanite.com
MoissaniteStudio.com
MyMoissanite.com
TheMoissaniteLady.com
Wholesalemoissanite.us
JmauerJewelry.com
Kandgmoissanite.com
Moissaniteonthenet.com
Moissanite.us
PremierMoissanite.com
SarahFergusonJewelry.com
JCPenny.com (no longer sells Moissanite jewelry)